Moderators: Barrett Forum, Samurai, Barrett
Win a REC7 @ our NRA booth!
Barrett invites you to join us at the NRA 2010 Annual Meetings & Exhibits in Charlotte, NC on May 14th - 16th. Visit us at booth # 3312 for a chance to win a REC7!
http://www.nraam.org/
Member
Posts: 218
Joined: Tue 19 Jan, 2010 11:34 am
Location: Deep within the man cave.
NRA Member: yes
Favorite Firearm: Whatever is in my hands.
---
If you go will you please post pictures when you come back.
I was the 5th member to sign up.
A well regulated Militia, being necessary to the security of a free State, the right of the people to keep and bear Arms, shall not be infringed.
The 2nd Amendment
Continuing Member
Posts: 316
Joined: Thu 09 Apr, 2009 2:47 pm
Location: Here at the PC. Where else would I be?
NRA Member: yes
Favorite Firearm: What do you think?
---
I'll be sure to stop in!
"Safety" "yea I heard of it. It's that mechanism on the side of a Gun to keep you from shooting people you like".

"Talked to GA Precision yesterday. Conversation basically went straight to "Credit Card Number please"...Gun should be ready in about 4-6 weeks."
Member
Posts: 144
Joined: Mon 16 Nov, 2009 6:53 pm
Location: Minnesnowta
NRA Member: yes
Carry Permit: yes
Favorite Firearm: 98B, 82A1, 1911 TRP
Favorite Ammo: Hornady A-Max & V-Max
---
wish i could make it but live to far away
BARRETT 82A1 SEMI AUTOMATIC WITH LEUPOLD MARK 4 8.2-25X50MM WITH BORS
BUSHMASTER M-4
RUGER MINI-14 WITH LEUPOLD 3-9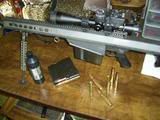 WASR AK-47
CHINESE SKS
2 XD-45
BERETTA PX4 STORM 45
SPRINGFIELD ARMORY 1911 A1
SIG SAUER 1911
PARA ORDINANCE WARTHOG 45
SMITH & WESSON 500 MAG
IMI DERSERT EAGLE 50ae
Continuing Member
Posts: 1953
Joined: Mon 20 Apr, 2009 1:19 pm
Location: not at work
---
---
Return to Announcements from Barrett
Users browsing this forum: No registered users and 1 guest