Moderators: Barrett Forum, Samurai, Barrett
Barrett Now Shipping XM33 .50 BMG Ammo!
Barrett Firearms has shipped XM33 .50 BMG ammo to distributors! The ammunition is offered in 120 round bulk pack, packaged in new ammo cans featuring the Barrett Logo.
Distributors can be found here.
Board Veteran
Posts: 254
Joined: Wed 08 Apr, 2009 3:24 pm
Location: Middle Tennessee
---
Great news, thanks Shane.
ΜΟΛΩΝ ΛΑΒΕ



People think I'm paranoid because I own guns.
If I own guns, what do I have to be paranoid about?

Calling an illegal alien an "undocumented immigrant"
is like calling a drug dealer an "unlicensed pharmacist ".



SEMPER FI

Site Admin
Posts: 1528
Joined: Thu 09 Apr, 2009 2:43 pm
Location: Stocking for the future
NRA Member: yes
Military: yes
Law Enforcement: yes
Carry Permit: yes
Favorite Firearm: FN LAR Paratrooper
Favorite Ammo: 7.62 mm
---
awsome wish i could get some maybe next week hopefully Thanks shane
BARRETT 82A1 SEMI AUTOMATIC WITH LEUPOLD MARK 4 8.2-25X50MM WITH BORS
BUSHMASTER M-4
RUGER MINI-14 WITH LEUPOLD 3-9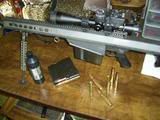 WASR AK-47
CHINESE SKS
2 XD-45
BERETTA PX4 STORM 45
SPRINGFIELD ARMORY 1911 A1
SIG SAUER 1911
PARA ORDINANCE WARTHOG 45
SMITH & WESSON 500 MAG
IMI DERSERT EAGLE 50ae
Continuing Member
Posts: 1953
Joined: Mon 20 Apr, 2009 1:19 pm
Location: not at work
---
Is this the same IMI mfg'd ammo as always, or different mfg?
Continuing Member
Posts: 91
Joined: Thu 23 Apr, 2009 5:03 pm
---
---
Return to Announcements from Barrett
Users browsing this forum: No registered users and 1 guest