Moderators: Barrett Forum, Samurai, Barrett
Just wanted to say howdy from Texas! Signed up last week and posted a thread in the optics scopemounts it's the one marked Larue 107 QD. If you haven't read that I'm in the process of ordering me a 82a1 in 50 bmg, I've already ordered scope mk4 8.5-25-50mm m1 ill. tmr recticle, Larue mount, hornady amax750s and a few other items. How do I know what year the gun would have been made? Is it indicated on the serial #? anyhow any info for a newbie would greatly be appreciated on this thread or the other, or just any advice you'd like to hand down to a soon to be proud owner of one of these fine jaw dropping bad boys.
Alright I've changed my mind and am set on the new M107A1 and have been put on the list when I get my new toy I will show and tell yall all about it! I'm so freakin excited
Last edited by
MonSteRZeRo
on Wed 09 Feb, 2011 9:09 pm, edited 1 time in total.
Poster
Posts: 35
Joined: Mon 17 Jan, 2011 9:14 pm
Location: Texas
NRA Member: yes
Carry Permit: yes
Favorite Firearm: Everything I have
Favorite Ammo: hornady
---
First great choice on firearm i love mine. Second your scope choice is very good. Third when you get your new baby send a PM to Kevin Fry the board moderator here give him the serial number and he'll be able to help you out with when it was made.
Welcome to the forum lots of gun knowledge on here.
BARRETT 82A1 SEMI AUTOMATIC WITH LEUPOLD MARK 4 8.2-25X50MM WITH BORS
BUSHMASTER M-4
RUGER MINI-14 WITH LEUPOLD 3-9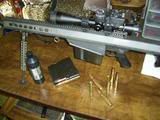 WASR AK-47
CHINESE SKS
2 XD-45
BERETTA PX4 STORM 45
SPRINGFIELD ARMORY 1911 A1
SIG SAUER 1911
PARA ORDINANCE WARTHOG 45
SMITH & WESSON 500 MAG
IMI DERSERT EAGLE 50ae
Continuing Member
Posts: 1953
Joined: Mon 20 Apr, 2009 1:19 pm
Location: not at work
---
---
Return to New Member Introductions
Users browsing this forum: No registered users and 1 guest