Moderators: Barrett Forum, Samurai, Barrett
Newbie
Posts: 2
Joined: Thu 14 May, 2009 1:38 pm
---
Takes some getting used to welcome you'll get it in no time.
BARRETT 82A1 SEMI AUTOMATIC WITH LEUPOLD MARK 4 8.2-25X50MM WITH BORS
BUSHMASTER M-4
RUGER MINI-14 WITH LEUPOLD 3-9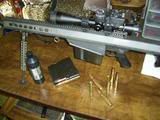 WASR AK-47
CHINESE SKS
2 XD-45
BERETTA PX4 STORM 45
SPRINGFIELD ARMORY 1911 A1
SIG SAUER 1911
PARA ORDINANCE WARTHOG 45
SMITH & WESSON 500 MAG
IMI DERSERT EAGLE 50ae
Continuing Member
Posts: 1953
Joined: Mon 20 Apr, 2009 1:19 pm
Location: not at work
---
Yeah, it gets better as you learn to navigate your way around.
ΜΟΛΩΝ ΛΑΒΕ



People think I'm paranoid because I own guns.
If I own guns, what do I have to be paranoid about?

Calling an illegal alien an "undocumented immigrant"
is like calling a drug dealer an "unlicensed pharmacist ".



SEMPER FI

Site Admin
Posts: 1528
Joined: Thu 09 Apr, 2009 2:43 pm
Location: Stocking for the future
NRA Member: yes
Military: yes
Law Enforcement: yes
Carry Permit: yes
Favorite Firearm: FN LAR Paratrooper
Favorite Ammo: 7.62 mm
---
we have a lot more options
"People Who Know Little,Are Usualy Great Talkers.
While Men Who Know Much,Say Little"

Continuing Member
Posts: 278
Joined: Thu 09 Apr, 2009 4:09 pm
Location: Not In Heaven
NRA Member: yes
Military: yes
Carry Permit: yes
Favorite Firearm: Anything That Shoots!!
Favorite Ammo: 50Cal API
---
---
---
Return to New Member Introductions
Users browsing this forum: No registered users and 1 guest