Moderators: Barrett Forum, Samurai, Barrett
recently recieved my 98b over here in australia
its an absolute beast and i am beyond impressed with barretts pioneering on this design.
the action is incredible. as you can see in this video it is easy to cycle fast and the monopod design keeps you on target. there are five rounds fired in 17 seconds. thats roughly 3.5 seconds a shot. hitting a small ram sillouette at 500m.
cant wait to stretch the range and really see what this thing can do.
i have equipped it with the big nightforce
12-42x56. nothing can hid anymore
currently there are 3 in the country here and i believe no more will be imported sadley.
does anyone have any idea how many have been produced as yet? (my serial is 244)
and is there a wait for customers over there in the states?
posting pictures shortly
http://www.youtube.com/watch?v=vAnbdrmHJRs
Newbie
Posts: 12
Joined: Thu 23 Apr, 2009 5:01 am
---
Fantastic, thanks for the link.
ΜΟΛΩΝ ΛΑΒΕ



People think I'm paranoid because I own guns.
If I own guns, what do I have to be paranoid about?

Calling an illegal alien an "undocumented immigrant"
is like calling a drug dealer an "unlicensed pharmacist ".



SEMPER FI

Site Admin
Posts: 1528
Joined: Thu 09 Apr, 2009 2:43 pm
Location: Stocking for the future
NRA Member: yes
Military: yes
Law Enforcement: yes
Carry Permit: yes
Favorite Firearm: FN LAR Paratrooper
Favorite Ammo: 7.62 mm
---
thats awsome congrats on the new toy i want one now
BARRETT 82A1 SEMI AUTOMATIC WITH LEUPOLD MARK 4 8.2-25X50MM WITH BORS
BUSHMASTER M-4
RUGER MINI-14 WITH LEUPOLD 3-9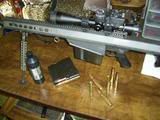 WASR AK-47
CHINESE SKS
2 XD-45
BERETTA PX4 STORM 45
SPRINGFIELD ARMORY 1911 A1
SIG SAUER 1911
PARA ORDINANCE WARTHOG 45
SMITH & WESSON 500 MAG
IMI DERSERT EAGLE 50ae
Continuing Member
Posts: 1953
Joined: Mon 20 Apr, 2009 1:19 pm
Location: not at work
---
congrats on the new toy. unsure of serial numbers but u got a low one. and besides theres only 2 other people on your continent that can brag n say they have one.
Contributing Member
Posts: 365
Joined: Wed 22 Apr, 2009 8:39 pm
Location: pa
NRA Member: yes
Carry Permit: yes
---
Congrats on the new toy, great video keep it up!!!!
Planning on visiting your wonderful country for week and a half around Sydney in September!!
Men fight for liberty and win it with hard knocks. Their children, brought up easy, let it slip away again, poor fools. And their grandchildren are once more slaves." D.H. Lawrence
Five percent of the people think; ten percent of the people think they think; and the other eighty-five percent would rather die than think." Thomas A. Edison
Continuing Member
Posts: 611
Joined: Thu 09 Apr, 2009 2:42 pm
Location: United States of America
NRA Member: yes
Favorite Firearm: Springfield M1911 Gov't
---
Wow. That action is buttery smooth. First time I've seen one fired, and I'm impressed.
"Stupid can happen anywhere at any time; so you best be prepared for it."
ΜΟΛΩΝ ΛΑΒΕ
Semper fidelis
Continuing Member
Posts: 420
Joined: Mon 20 Apr, 2009 10:07 am
Location: Illinois
---
very nice now i want 1 if only the ammo was'nt so **** much!!!!!! thats what messes a gun up for me is the price of ammo. and btw if i had a chance that would be the first place i would go outside of the usa.tons of gold there in au...funny thats the symbol for gold too. iv'e been a gold prospecter for many years and have always wanted to go over there.it's where minelab is too"1 of the best gold finding machines out there".
Member
Posts: 233
Joined: Mon 20 Apr, 2009 10:48 am
---
---
I thought Australians had to turn in all their firearms some time ago. What's the scoop on ownership these days?
Please accomplish crime control before attempting gun control.
Active Poster
Posts: 80
Joined: Mon 20 Apr, 2009 3:19 pm
Location: Midwest
---
ahah no. not quite. the legislation is quite strict with no semiautomatic weapons allowed on a normal licence or weapons with 50 bmg or there abouts calibre. there were a few 460 steyrs/408cheytac/416barretts that were sold in qld although they have been recalled as they have been deemed to powrful -____-
i am extremly impressed with the rifle. i hope to see it in the hands of military someday as it is ideally suited to that role between 308 and 50 bmg. as you can see in the video it is perfect for anti material with its high rate of fire and the 338 round aint no weakling. but its also sub moa accurate and can be used for anti personell. i am extremly happy with the product
i would love to see a 308 version produced in the future. this would prove very popular i believe
me and my family are travelling to las vagus and LA in september this year
i am hoping to fire a 50 cal barrett as this is one of my goals
does anyone know where i could achieve this? any recomendations?
Newbie
Posts: 12
Joined: Thu 23 Apr, 2009 5:01 am
---
I'm sure you'll get a lot of invites but if your in the New Mexico area your welcome to stop by our range and use my Barrett. Good luck and enjoy your visit. Tortoise
Poster
Posts: 40
Joined: Tue 26 May, 2009 1:32 am
---
wow thats awsome i want one soooo bad now the action looked so smooth...very nice thanks for the video
hope for the best prepare for the worst
Board Veteran
Posts: 797
Joined: Thu 09 Apr, 2009 5:05 pm
Location: indiana..i need a 1000 yard shot please!!!!!
Favorite Firearm: 82a1 allways will be
---
Wow, only 3 in the entire country and you have 1 of them
, that was like hitting the lottery, thanks for the vid and much congrats!!!!
Member
Posts: 144
Joined: Tue 28 Apr, 2009 8:20 am
---
---
Users browsing this forum: No registered users and 1 guest