Moderators: Barrett Forum, Samurai, Barrett, Barrett Training
Barrett Long Range 1 and 2- Nov. 6-11,2009-Raton, NM
We close out our 2009 training at the NRA Whittington Center in Raton, New Mexico. The people there and the service continued to be exceptional. We could not have asked for better weather. The classes were Long Range 1 and 2 with people from all different backgrounds and professions in attendance. Tim and Kyle joined us to test out some new guns and other equipment. My thanks to Don Cook for all of his hard work, Thank you sir.
Newbie
Posts: 5
Joined: Wed 05 Aug, 2009 6:15 pm
---
That is sweet is that a 107-A1 i see with the round muzzle brake?
BARRETT 82A1 SEMI AUTOMATIC WITH LEUPOLD MARK 4 8.2-25X50MM WITH BORS
BUSHMASTER M-4
RUGER MINI-14 WITH LEUPOLD 3-9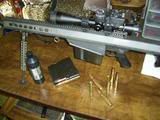 WASR AK-47
CHINESE SKS
2 XD-45
BERETTA PX4 STORM 45
SPRINGFIELD ARMORY 1911 A1
SIG SAUER 1911
PARA ORDINANCE WARTHOG 45
SMITH & WESSON 500 MAG
IMI DERSERT EAGLE 50ae
Continuing Member
Posts: 1953
Joined: Mon 20 Apr, 2009 1:19 pm
Location: not at work
---
Nice! I can't wait to attend one of these.
Poster
Posts: 37
Joined: Tue 09 Mar, 2010 3:49 pm
---
---
Return to After Action Reports
Users browsing this forum: No registered users and 0 guests