Moderators: Barrett Forum, Samurai, Barrett
1981 Surplus Brazilian CBC Magtech .50 BMG Ammo
AIM Surplus has 1981 Surplus Brazilian CBC Magtech Mfg. .50 BMG ammunition with a 706gn full metal jacketed bullet, brass case, and a non-corrosive boxer primer. The price is $16.95 for a 10-round box or $15.95 a box if you buy 10+ boxes. From what I understand, CBC Magtech is pretty good stuff. The price seems really good. Has anyone shot this ammo? Heard anything positive? Negative? Thoughts?

Barrett M107
Barrett 98B
Armalite AR-50
Browning M2HB
Browning FN30
Browning 1919A4
Tactical Rifles LR .308
Poster
Posts: 26
Joined: Mon 20 Apr, 2009 10:45 am
Location: Shelton, WA
---
Wonder how much they had, that didn't last long at all, already says "SOLD OUT". I bought a 80-round box of the Singapore surplus ammo from the same place and they were nice to deal with.

Darren
Newbie
Posts: 19
Joined: Tue 27 Jul, 2010 2:03 pm
Carry Permit: yes
Favorite Firearm: Barrett M99-A1
---
I bought a 200 rd battle pack of 308 and 500 rounds of 223 for less then just over 200 bucks shipped they are very great to deal with there will get alot of my buisness from now on as long as they have the ammo in stock.
BARRETT 82A1 SEMI AUTOMATIC WITH LEUPOLD MARK 4 8.2-25X50MM WITH BORS
BUSHMASTER M-4
RUGER MINI-14 WITH LEUPOLD 3-9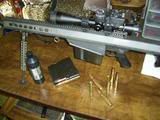 WASR AK-47
CHINESE SKS
2 XD-45
BERETTA PX4 STORM 45
SPRINGFIELD ARMORY 1911 A1
SIG SAUER 1911
PARA ORDINANCE WARTHOG 45
SMITH & WESSON 500 MAG
IMI DERSERT EAGLE 50ae
Continuing Member
Posts: 1953
Joined: Mon 20 Apr, 2009 1:19 pm
Location: not at work
---
Oops, now not sold out, get em' while they're hot I guess.
Newbie
Posts: 19
Joined: Tue 27 Jul, 2010 2:03 pm
Carry Permit: yes
Favorite Firearm: Barrett M99-A1
---
Just tried this CBC ball ammo from AIM. **** it's HOT! I was sure glad I had the new gel butt pad from Lin on the 99. This ammo was even hotter than the Argentine AP I tried or at least recoiled more so.
Poster
Posts: 41
Joined: Sun 03 Jan, 2010 12:14 pm
---
This stuff was GREAT! Very nice group, had a few fliers but must just be from more powder? Had a 4 leaf clover on my 9 shot group. Highly recommend for the M99 locked up the bolt with no pressure at all, shot well enough for me.
Newbie
Posts: 14
Joined: Thu 16 Dec, 2010 11:52 am
NRA Member: yes
Military: yes
Favorite Firearm: G-29
Favorite Ammo: 10mm
---
Re-sizing this brass was fine, primer crimp was easily removed, But primer pockets are too shallow, quite a bit of cutting was needed to uniform the primer pockets, I was told .220'' but I found .215 was
more than enough to seat my CCI primers just below the surface.
Newbie
Posts: 14
Joined: Thu 16 Dec, 2010 11:52 am
NRA Member: yes
Military: yes
Favorite Firearm: G-29
Favorite Ammo: 10mm
---
---
Users browsing this forum: No registered users and 0 guests