Moderators: Barrett Forum, Samurai, Barrett
Barrett M82A1 & M99 .416 on Ultimate Weapons TV Show
The TV show Ultimate Weapons, on the Military Channel, will be featuring the Barrett M82A1 and the Barrett M99 .416 in the top 10 sniper rifles and is scheduled to air on
Tuesday, May 26th at 10pm eastern.
You can also go online and rate the featured rifles here:
http://military.discovery.com/tv/ultima ... ifles.html
Make sure you tune in and check it out!
You do not have the required permissions to view the files attached to this post.
Board Veteran
Posts: 254
Joined: Wed 08 Apr, 2009 3:24 pm
Location: Middle Tennessee
---
Someone tape it for me please i don't have a dvr or vcr for that matter and i have to work. Man I'm going to miss it but thanks for the headsup shane.
BARRETT 82A1 SEMI AUTOMATIC WITH LEUPOLD MARK 4 8.2-25X50MM WITH BORS
BUSHMASTER M-4
RUGER MINI-14 WITH LEUPOLD 3-9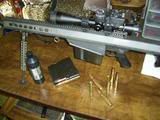 WASR AK-47
CHINESE SKS
2 XD-45
BERETTA PX4 STORM 45
SPRINGFIELD ARMORY 1911 A1
SIG SAUER 1911
PARA ORDINANCE WARTHOG 45
SMITH & WESSON 500 MAG
IMI DERSERT EAGLE 50ae
Continuing Member
Posts: 1953
Joined: Mon 20 Apr, 2009 1:19 pm
Location: not at work
---
I saw it! Thanks!
I found a recording on youtube .
I was the 5th member to sign up.
A well regulated Militia, being necessary to the security of a free State, the right of the people to keep and bear Arms, shall not be infringed.
The 2nd Amendment
Continuing Member
Posts: 316
Joined: Thu 09 Apr, 2009 2:47 pm
Location: Here at the PC. Where else would I be?
NRA Member: yes
Favorite Firearm: What do you think?
---
---
Return to Announcements from Barrett
Users browsing this forum: No registered users and 0 guests